Meet Our Team
Get to Know the Team at Results Align Chiropractic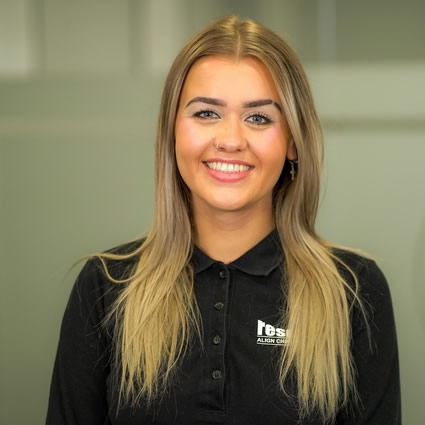 Charlotte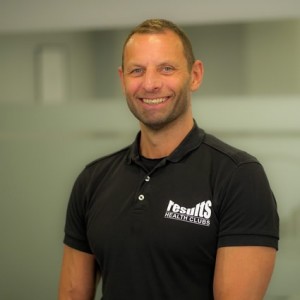 Paul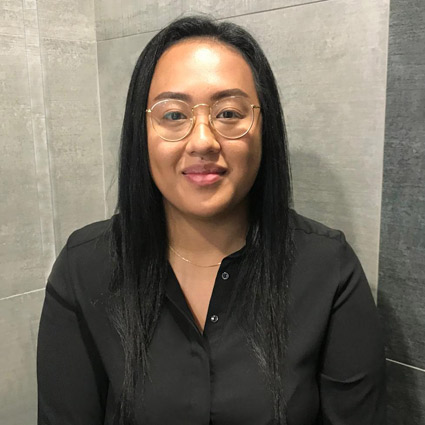 Blanche
Zane
Nadia

Meet Our Chiropractic Assistants
Get to know our friendly and caring CAs who seek to ensure that
patients have an excellent experience at every visit.
Charlotte Louise Pattenden – Manager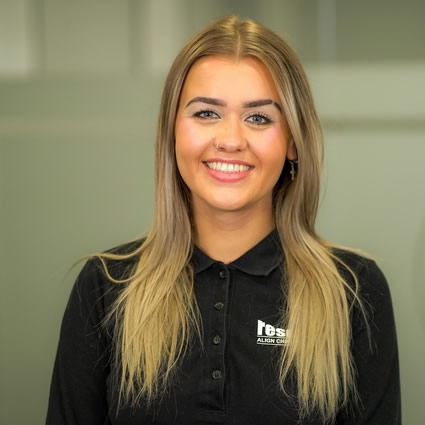 Growing up, Charlotte first attended a state school, followed by four years at a private school her church ran. Then her parents homeschooled her for four years before she attended a state secondary for GCSES.
Eclectic Work Experience
Before joining our practice, Charlotte held various jobs, including working in car showrooms, at reception desks, in warehouses, and doing basic administrative work. Charlotte even managed a milkshake shop.
Read more about Charlotte »
For her, the highlights of her previous work were becoming a carer for children within the social system and caring for those with dementia in care homes. Charlotte also became the youngest person to manage the Nokia HQ building, facilities-wise, when the company transferred from Ireland to the UK.
Finding Her Purpose
After trying and testing almost every role a young person could, Charlotte narrowed it down to wanting to help people. So she quit her job and took the plunge to work as a CA. Charlotte knows she's on the correct path and feels she has her sense of purpose back.
What I love most about my job is the environment that has been created. Every struggle I have faced in previous work has been eradicated through the values that have been put in place. I feel like I am believed in and that my goals are not out of reach. That is something I haven't experienced within work or any relationships previously."
Charlotte appreciates that at our practice, she is constantly offered opportunities to improve herself. "Plus, the clients are all lovely, and I am kept on my toes."
Appreciating the Value of Chiropractic
Charlotte believes it's important for people to see a chiropractor because most people do not realise how they could feel as opposed to how they do. "Some people might not think there are issues, or that they function fine, but fine isn't excellent; fine isn't perfect. Whether patients see us for general wear and tear or a weakened immune and nervous system, I believe that chiropractors enhance people's lives to help them live to the fullest."
Hobbies and Family
Outside of work, Charlotte loves being a social butterfly. She enjoys being with others whether it be to relax, go for country walks or drives, swim in rivers and lakes, or have friends over to stay. She also loves to sing, write songs and play the piano. One of her other favourite things to do is spend time with her two pussy cats Oscar and Hugo, both greedy hunters.
Originally from Slough, Charlotte comes from a close family and lives with her mum, dad and younger sister. Her younger brother lives in Bristol. She also works part-time at a local pub.

Blanche Mayo – Chiropractic Assistant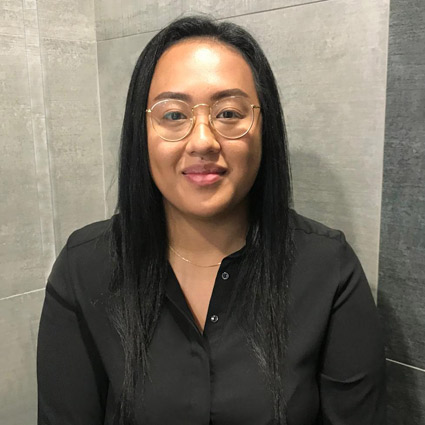 Ever since I was young, I have been playing a huge array of different sports. Therefore, leading me to study sport and exercise science at the University of Portsmouth. I knew that I wanted to go into the healthcare/exercise sector. However, I wasn't sure which branch I wanted to specialise in. I was a strength and conditioning coach for a women's football team and loved it. On the other hand, I've also had a passion for cooking ever since I could touch a hob so I became a chef after university (during the pandemic) in Portsmouth as I couldn't leave the sea behind. Although I loved it, I knew I still wanted to go into the health and exercise field and want to help people improve or strengthen their overall health, mentally and physically and this led me to find a CA role at Results Align as I know how chiropractic care can help with both of that.
In Her Spare Time
In my spare time, I love to eat out at new restaurants, explore different places around the world and go on walks with my little puppy, Hershey.

Zane

Ahmed 

- Chiropractic Assistant
Zane is in his first year of chiropractic, studying his Masters at McTimoney after suffering an injury and chiropractic helping his recovery. He is excited to grow with Results Align and use his skillset and knowledge to support clients in his CA role.
In His Spare Time
Zane enjoys football, and supports Liverpool.

Nadia

Rayasat

 – Chiropractic Assistant
Nadia has recently started pursuing her passion for chiropractic following her parents footsteps, Nadia has grown up around chiropractic her whole life. She loves to travel and has lived in the UK, Sweden and Malta.
In Her Spare Time
Nadia enjoys cooking, dancing and animals.
Book an Appointment
Contact us today to schedule an appointment!
CONTACT US »
---
Results Align Chiropractic Team | 01235 538620