About Us
Skilled and Compassionate Care
Since 2019, our chiropractic care centre has been known as the warm and friendly practice that's made a positive difference in the lives of many Abingdon families. We offer customised strategies to help you feel your best. From helping newborns and children to parents and seniors, we have the tools and experience to make help. If you have a specific problem or just don't feel well, we invite you to experience our unique practice difference.
We feel fortunate to be a part of what makes the lives of our practice members more meaningful, abundant and rewarding. Our hope for our patients is maximised health and wellness. Optimal health is all about the degree of life force that you express. It's our job to bolster that innate force that resides in every one of us.
Our Philosophy
Our mission and philosophy are simple. We're not just about pain, but more about function and the state of wellness. Our job is to discover and alleviate subluxations (spinal misalignments), which allows the nervous system to function in an optimal way.
What does functioning in an optimal way mean?
It means having a strong immune system
It's about having organs that are healthy, including the reproductive organs
It involves being pain-free the majority of the time
It means having healthy glands (the thyroid, adrenal, parathyroid, thymus, pituitary and pineal glands)
It's about quick recovery from injury
It allows for good developmental milestones in children
It includes a sense of wellbeing with good concentration and focusing abilities
We take a holistic approach when it comes to your health. Being pain-free alone doesn't necessarily mean that you're healthy. Our team takes a close look at stress, lifestyle habits, nutrition and mindfulness. Throw in a good dose of education, and you've described the unique aspects of our practice.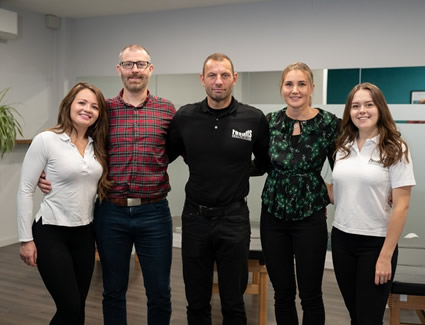 A Dedicated Team
At Results Align Chiropractic your goals are our goals. We always strive to give you the best and most specific experience while you're reaching for a satisfying result. No goal is too small. Whether it's being able to walk further, run faster or improving your general mood, we're always here for you.
MEET OUR CHIROPRACTORS »
Our clinic is located on the bottom floor of the popular Results Health Club. We offer our patients a free 5-day pass to try out the facilities at this Abingdon gym. Many of our practice members find that the combination of physical fitness and advanced chiropractic services make up an ideal state of health and wellness.
It's our objective to be the best, delivering high-quality adjustments to every member of the family.
Recently, we accepted a female patient for care who suffered from Chronic Fatigue Syndrome (CFS) and fibromyalgia. This woman could barely function, not even being able to pick up her kids from school. She and her husband were on the brink of divorce.
After trying everything to regain her health, she was referred to our clinic. Our patient felt hopeless and despondent. We do an amazing job of helping women with chronic issues, especially those between 35 and 55. Our team felt optimistic that we had a good shot at alleviating her problems.
After six weeks of consistent care, her symptoms subsided. She began to feel life returning to her body. This woman was able to interact with her children again and resume a rewarding relationship with her partner. As for her husband, he was very grateful for this turnaround and became a patient himself. After a short while, the entire family was coming in for care!
We're Waiting to Welcome You
It would be our honour and pleasure to welcome you to book an appointment soon. We feature late hours; contact us today.
---
About Results Align Chiropractic | 01235 538620